Glass made during my Masters degree 2003
Fragments of a landscape 1, 2 and 3. size approx 25cm x 20cm
These are 3 pieces I made during my masters degree at Sunderland University, they abstract pieces based on love and marriage. They are made using traditional stained glass techniques, leaded coloured glass, sandblasted, stained and painted.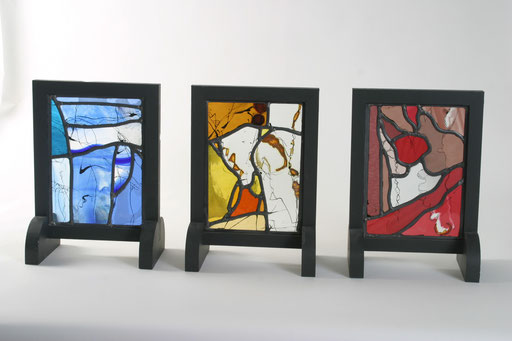 Blue love
Blue love window is  30cm x 10 cm made using Hartly woods flashed glass, painted and sandblasted. 
Green love
Leaded green glass with painted details, approx 25cm x 7cm 
these two panels are larger than the rest at approx 35cm x 12 cm they are leaded and some of the pieces are fused glass, they are also painted stained, sandblasted and engraved.
Portraits and pop stars
these are all approx 20 cm x 20cm painted backgrounds with fused glass atttached on the top, if you'd like to order a portrait use the contact form.