courses
Stained Glass Beginners one day course 150€ 10 am - 4 pm
Come and enjoy learning new craft skills in a professional artist's studio in a small group. You  will learn how to make your own stained glass panel that you can take home. You will learn all  the processes in making stained glass including
how to draw a design, cut glass, lead, solder and cement.
The maximum class size is 4 so there's
plenty of one to one time. No previous experience is necessary.
If you already have experience you can come along  with your own design and make that.
additional material costs will be added for larger
panels).
10 am - 4 pm (sometimes classes overrun slightly)
wear sturdy shoes, and old clothes, all materials
are provided, and lunch is included, let us know if you have any dietary requirements.
Stained Glass with fusing weekend course. 250€ 10 am - 4 pm
This is an intermediate course for those of you who already know the basics of making a stained glass panel, in this course you will design a panel, and include fused glass elements into it, Day one will be spent designing and making the fused elements, 
they will then be fired and ready for day 2, you will continue cutting out your glass, and assemble your window.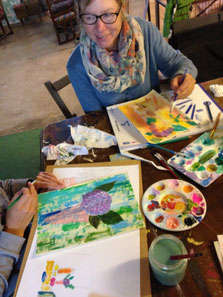 Creative Drawing Classes Fridays
1.30 - 3pm 15€ per session.
These classes are a fun way into drawing, having fun and trying out new ways of sketching. All levels welcome.
Fuse a stag course one day course 125€ 10 am - 4 pm
Come and Make yourself a beautiful stag,In a small group of up to 5, learn how to cut glass, and make your design, this is a beginners course but more advanced fusers are also welcome, Templates are ready for you to work on, then you will build your stag in the kiln ready for fusing. The stag will fit onto an A4 page. and be ready to collect the next day.
all the materials are provided, just make sure you wear sturdy shoes and old clothes!
lunch is provided. Let us know if you have any dietary requirements. 
Fused glass Cactus workshop
Monday 19th March
1pm -3.30. 50€
small groups (max 4)
In this workshop you will make 4/5 cacti to fit in a small terracotta pot, you will learn how to cut and shape glass, and use frit and stringers for decoration. Your work will then be fired over night and you can collect it the next day
Fused glass lantern workshop
10am - 4pm Thursday 22nd March
150€
In this workshop you will design and decorate the 4 sides of your lantern, you will learn how to cut and shape glass, and used powder and frits and stringers to create your design. there are 3 places on this course, the lantern you will decorate is one of the ornate ones!