The Clunes was made in 1995 as part of my degree show, I still love the colours and the way this looks, photos taken from the inside so I flipped it so it the writing was the right way round!
Wedding presents 
Unique wedding presents based on the colours of your wedding.
An ideal wedding gift!
This stained glass window was designed using elements of fused and painted stained glass, the design was inspired by oak leaves, it was commissioned as a Christmas present, from my client to his wife, Installed September 2016
Aurélies wedding
fused glass branches made up the table decorations for this wedding, I also made some into a chandelier and a sculpture for an exhibition.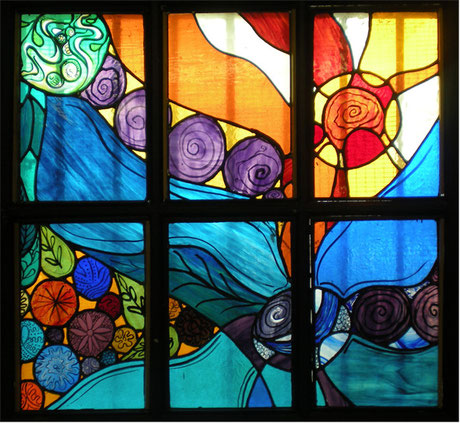 This is a window I made for the millennium, it sits in the riverside health centre in Newcastle upon Tyne.  I used the symbolism of plants and flowers, to create this abstract design, the colours were chosen to promote communication, and the circles were a representation of the people that used the centre, everyone was welcome no matter their colour shape or size.
It is made using traditional stained glass techniques, coloured glass painted stained, sandblasted, then leaded.
Barningham Village Hall
2000 this window was designed by me with input from the local community, the circles were made over a couple of workshops by the lovely people of Barningham.
Cullercoats vestibule window
2008 This is a vestibule window, in Cullercoats Tyne and wear, leaded with fused elements, the lady who who commissioned it was full of great ideas, which made the collaboration a great deal of fun.
Detail of the window, it shows peices made with confetti glass frits, and bullseye glass.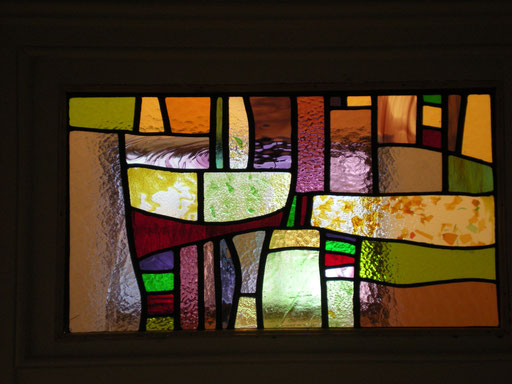 2009 This Panel was commisioned by a lovely lady who's favorite stained glass door was broken, she liked klimt and wanted me to make a window with the broken pieces of glass, if you have some glass you'd like recycled let me know and I can make something lovely with it for you. Here a selection of my work.
This window was made a back door, the brief was to use cool colours and simple shapes.
These are fused glass panels, I made a mould from plants from the garden and fused the glass on top to pick up detail, I added painted details also.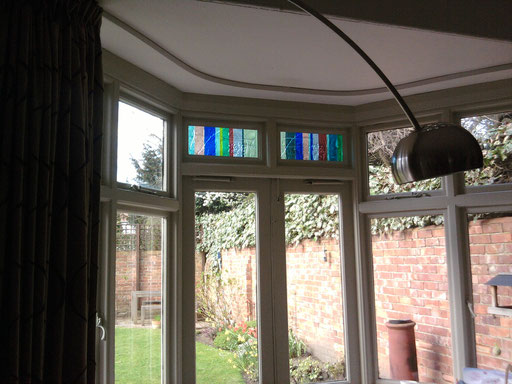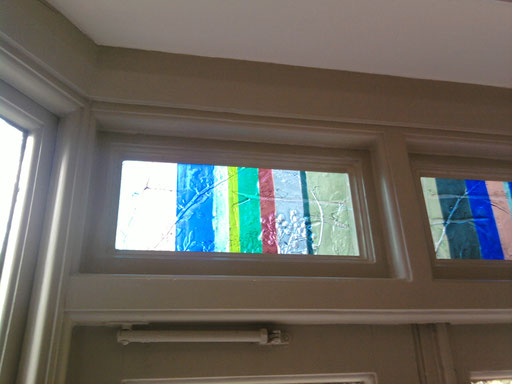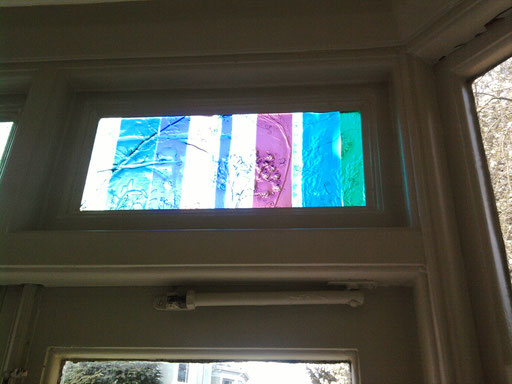 Thorpe hall stained glass
2003 these two panels are in Thorpe hall near Barnard Castle, commisioned for the cloak room, they are traditional stained glass, painted stained, with inclusions of fused glass elements.